posted by Aar on januari 24th, 2021
Om foto's te kunnen stacken = opbouwen uit meerdere prenten die ieder een ander stukje scherp in beeld hebben) ben ik onlangs begonnen een software te selecteren. De open source componenten waarmee ik de kastanjebloemen heb gestacked werkten erg slecht met de recente onderwerpen en zo heb ik besloten om Zerene Stacker uit te proberen.
Zerene loopt prima op mijn Linux computer en ook nog erg vlot met flinke aantallen grote raw bestanden van de Sony A7R2 (die eerst met dcraw naar het tiff formaat zijn omgezet). Alvorens te besluiten Zerene aan te schaffen en de zoektocht te stoppen heb ik een zeer kritische test gedaan: een takje met korstmossen dat diagonaal door het beeld van me af loopt, al gauw 6 cm ver binnen het beeld. Zie hier het resultaat na stacken en nabewerken in Darktable: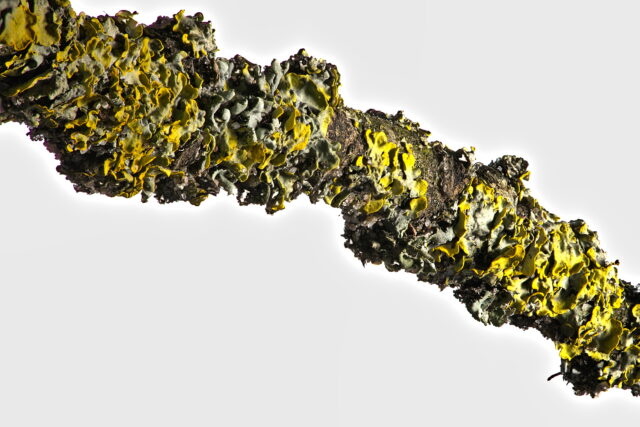 Linksboven zit op het meest dichtbij-punt van de 90mm macrolens (vergroting 1:1). Op die stand is de beeldhoek het kleinst; verder weg focussend wordt die hoek flink groter. Zerene pakt netjes de grootste gemene deler van alle foto's en snijdt de rest weg. Ook kun je hier zien dat het verder verwijderde deel meer belicht is. Het hele takje is gelijkmatig belicht door een flitser, maar dichterbij neemt het effectieve diafragma af…
Vervolgens heb ik het lampionnetje dat in oktober poseerde nog eens voor het voetlicht gehaald: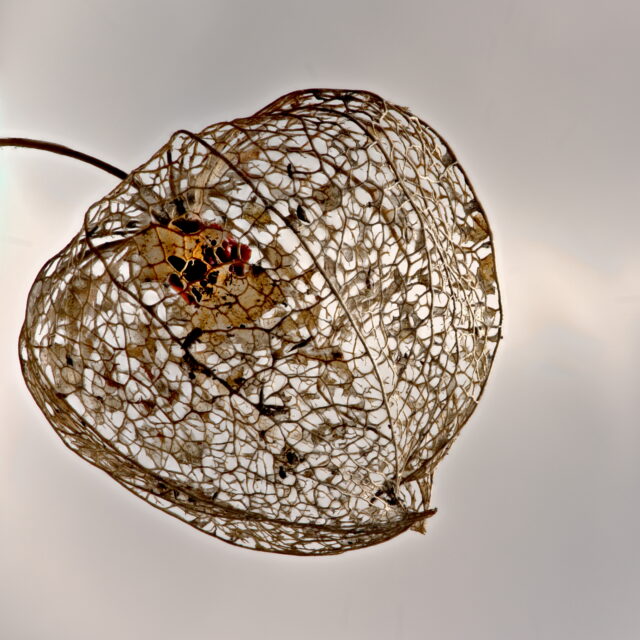 Het lampionnetje is een extra moeilijk object omdat niet alleen de scherptegebieden varieren maar ook het perspectief van de lens (ondanks een vaste positie; alleen de scherpstelring heb ik verdraaid). Hier zitten nog vage vlekken in die met de retouching van Zerene redelijk te verhelpen zijn als ik tijd neem om die vaardigheid op te bouwen.
This entry was posted on zondag, januari 24th, 2021 at 22:23 and is categorized in
Foto techniek
,
Macro
. You can follow any responses to this entry through the
RSS 2.0
feed. You can skip to the end and leave a response. Pinging is currently not allowed.