posted by Aar on januari 11th, 2023
Ik heb een prachtig cadeau van Jolande gekregen: een weerstation!
Het is een Alecto WS 5500 waar een heleboel sensoren inzitten. Via een 866MHz verbinding communiceert deze met een binneneenheid die ook sensoren bevat zodat je bijv. binnen- en buitentemperaturen kan vergelijken. Na wat testen heb ik besloten om de buiteneenheid op het dak te plaatsen (in plaats van de vroegere satellietschotel):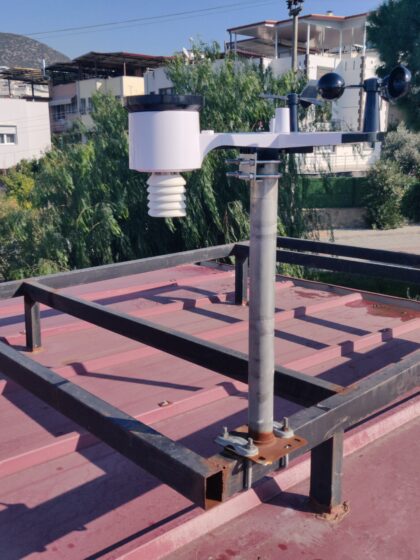 De binneneenheid kan aan de wifi gehangen worden en vervolgens geregistreerd bij Weather Underground (of een vergelijkbare dienst) om meetresultaten op te slaan, historische statistieken te genereren of de gegevens te delen met talloze andere weerstation-eigenaren.
Hier zie je een paar grafieken van een van de eerste actieve dagen: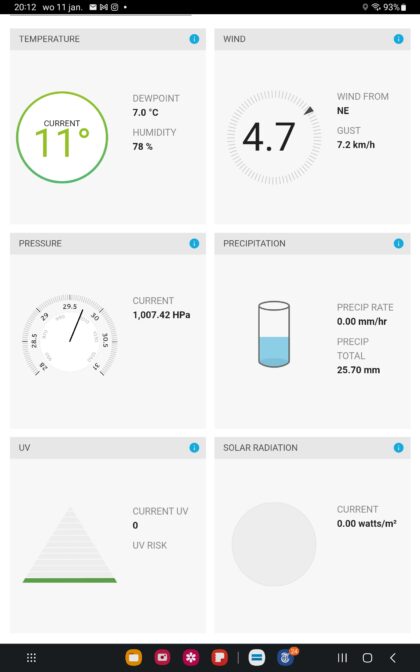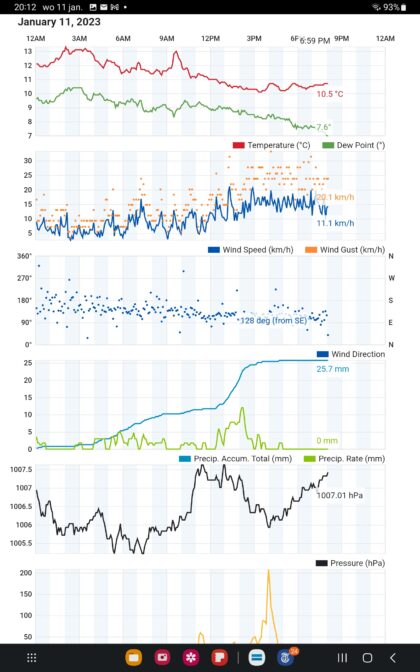 Je kunt de resultaten van onze weermetingen zelf bekijken op Wunderground.
Enne is Aar hiermee uitgeprutst? Tuurlijk niet! Het is namelijk ook mogelijk om de resultaten naar een eigen server te sturen: je geeft een server en poort op en en een aldaar luisterend proces krijgt iedere 16 seconden een json file binnen met resultaten. Die zou ik het liefst in een InfluxDB of Prometheus database stoppen om vervolgens met Grafana zichtbaar te maken. De directe waardes maar ook afgeleiden want in Grafana panels kun je ook rekenen. Wordt vervolgd dus!
This entry was posted on woensdag, januari 11th, 2023 at 18:58 and is categorized in
TechStuff
. You can follow any responses to this entry through the
RSS 2.0
feed. You can skip to the end and leave a response. Pinging is currently not allowed.