posted by Aar on februari 14th, 2023
Met het woord "stoel" doe ik dit object te kort. Daarvoor is 'ie te classy, te bijzonder, te veel gemaakt met vakmanschap en met te veel… levenservaring. En daar staat 'ie dan, uitgerangeerd naast een afvalbak.
De challenge van 52 frames deze week was "chair" met als extra challenge: "tell a story". Dat laatste hoef ik niet zelf te doen, dat straalt dit object op deze plaats volop zelf uit.
Voor het kieken van een andere stoel had ik de camera bij me en opeens, later op de avond en onderweg terug naar huis… stonden we oog in oog met deze beauty.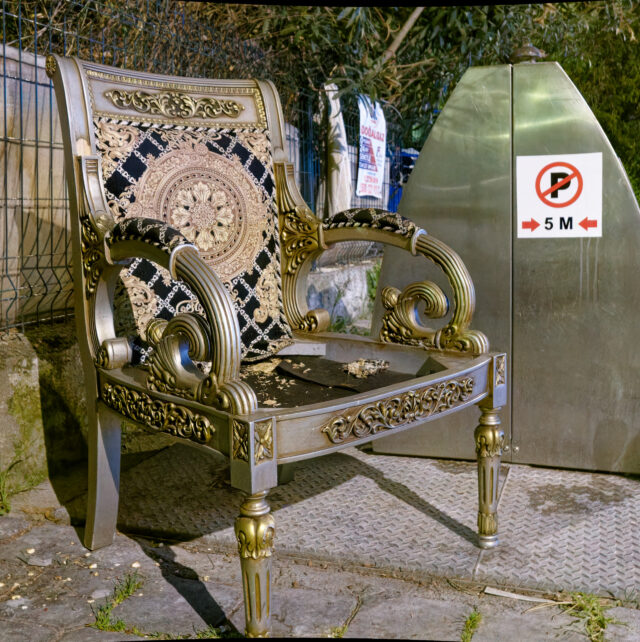 De foto is gemaakt met de Sony RX100 – op iso 6400 en zelfs dan nog met een lange sluitertijd door de donkere plek. DxO Photolab wist wel raad met de ruis en dankzij de witte sticker op de vuilbak was de witbalans ook zo geregeld: van roodbruinachtig straatlampenlicht naar natuurlijke kleuren met 1 klik!
This entry was posted on dinsdag, februari 14th, 2023 at 10:19 and is categorized in
Bijzonder
,
Objectfotografie
. You can follow any responses to this entry through the
RSS 2.0
feed. You can skip to the end and leave a response. Pinging is currently not allowed.