posted by Aar on februari 28th, 2021
Een tijdje terug gingen we met de volle vaart der volkeren het nieuwe energiemeettijdperk in. Onze oude stroom- en gasmeters konden echt niet meer (volgens de aanbieders) en zo kregen we moderne exemplaren die ook nog eens met elkaar verbonden zijn.
Die meters zijn ook met de aanbieder verbonden zodat al onze gebruiksgegevens vanzelf "het netwerk" opgaan. Uiteraard "geheel afgeschermd" voor anderen. Tenzij je toestemming geeft aan een van de vele bedrijven die ons inzage willen geven in ons eigen verbruik. Gratis (alleen per dag vanaf gisteren terug in de tijd) of met een betaald abonnement om direct inzage te krijgen.
Nu ben ik meer Prutsende Aar dan Gekke Henkie en dus heb ik – gebruik makend van het fantastische werk van veel andere prutsers) de slimme meter met een z.g. P1 kabel aan een oude Raspberry pi gehangen waar Domoticz op draait. En dan zie je o.a dit: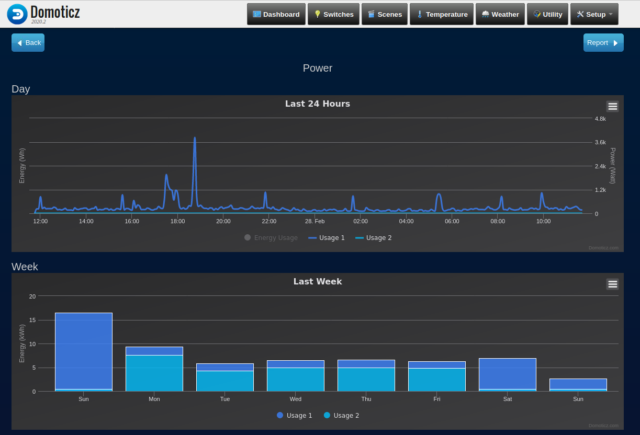 En nog mooier: je kan een stapje verder gaan door de gegevens ook nog eens naar een InfluxDB te schieten. Dan kan een Grafana dashboard de gegevens nog fraaier presenteren: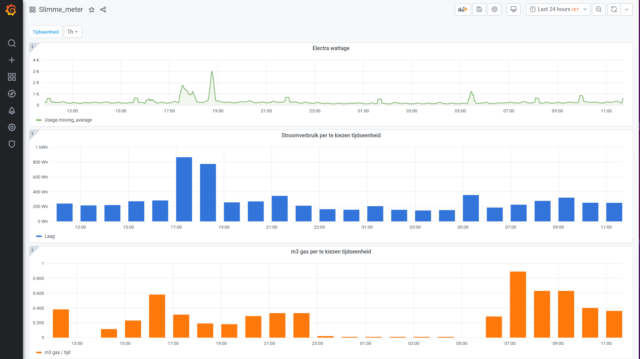 Kortom: lekker bezig. En al heel veel geleerd over gas- en stroomgebruik in de twee weken dat ik gegevens verzamel. Verdere mogelijkheden zijn er ook, bijvoorbeeld temperatuursensors aansluiten die buiten en binnen op diverse plekken gegevens verzamelen of zelfs de hele CV ketel eraan knopen. Heerlijk 😉
This entry was posted on zondag, februari 28th, 2021 at 12:12 and is categorized in
Techniek
. You can follow any responses to this entry through the
RSS 2.0
feed. You can skip to the end and leave a response. Pinging is currently not allowed.