posted by Aar on maart 6th, 2020
Vorig jaar heeft mijn gasbrandertje de geest gegeven. Repareren kon nog wel maar heel betrouwbaar zou 'ie niet meer worden en dat is met doorpriktankjes vol gas toch een risico. Vroeger heb ik een beruchte Coleman benzinebrander gehad in de tijden dat het hele ding weleens in een grote vuurbal veranderde. Spectaculair, maar ook een risico…
Tegenwoordig zijn er hele mooie branders die op de gekste dingen branden: de Primus Omnifuel die ik nu heb werd geleverd met 3 sproeiers voor:
De opvolgers van doorpriktankjes. Een gasmengsel dus, supermakkelijk
Benzine. Mooie schone of gewoon loodvrij van de pomp. Met een speciale tank en een pompje blijven zelfs je handen zo goed als schoon
Rotzooi. Dus: diesel, kerosine, lampolie, etc. Als je deze een aantal keren gebruikt hebt moet er een wat schonere brandstof door om de roet er uit te branden 🙂
Kortom, met deze brander en wat houtvuurpyromanie kan mij niks geks meer overkomen. Nog wat bijzonderheden: deze brander staat ongelooflijk stabiel vergeleken met die gasbrandertjes. En hij maakt flink wat herrie tijdens het branden. Zo verkopen ook een fluisterstille, maar deze is leuker!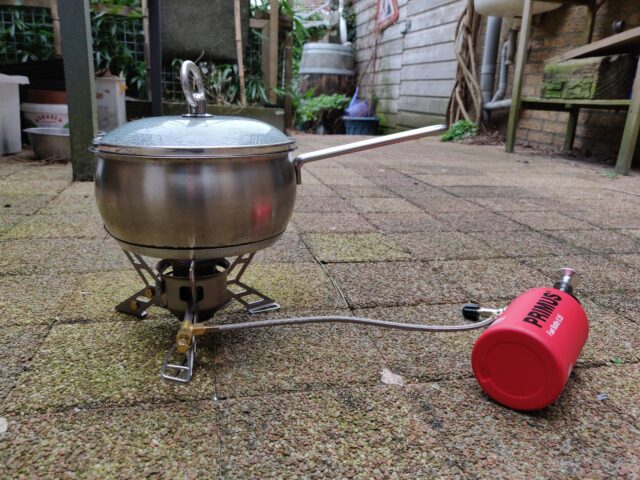 This entry was posted on vrijdag, maart 6th, 2020 at 14:29 and is categorized in
Voedingswaren
. You can follow any responses to this entry through the
RSS 2.0
feed. You can skip to the end and leave a response. Pinging is currently not allowed.