posted by Aar on juli 31st, 2019
Wat een onvergetelijke reis door half Europa had moeten worden met alle indrukken van een wereldmeeting en een Adriatic Raid langs de kust met Jolande als gids naar die vroegere dierbare plaatsen is een grote sof geworden.
Voor mij 12 dagen met hoogte- en dieptepunten en voor Jolande 5 dagen met vooral dieptepunten. Het pijnlijkst waren nog alle eendjes die ons tegemoet reden met vrolijk zwaaiende mensen er in terwijl wij letterlijk en figuurlijk afdropen. Tijdens de vrolijke Kroatische avonturen stond ik nieuwe papieren te regelen en verzekeringsformulieren in te vullen 🙁
Ach, ik heb wel veel geleerd. Dat ik over de auto nog veel moet leren bijvoorbeeld. En dat ik niet te vast moet rekenen op het nakomen van afspraken door anderen. En dat een joekel van een tent erg veel werk is om iedere dag alleen op te zetten. En dat gemiddeld 400 kilometer per dag moeten rijden de pret ook wel drukt. En dat er niet teveel spullen in 1 tas moeten zitten. En nog veel meer.
Tenslotte nog wat: een paar maanden later toen we thuiskwamen van een bezoekje gaf de buurvrouw ons een stapeltje papieren. Die waren door een Sloveense meneer uit Brabant afgegeven. Blijkbaar ergens in Slovenië gevonden en door particulieren naar Nederland meegenomen: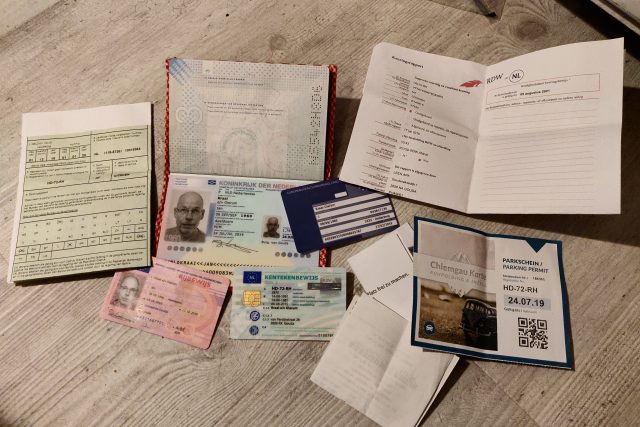 Wat geweldig van deze mensen om dat te willen doen! Weliswaar had ik alle documenten alweer nieuw in bezit maar hier werd ik toch wel stil van. En het maakt ook heel veel goed. Over een paar jaar is de wereldmeeting in Slovenië – wellicht wil ik een stukje van mijn 2019 reis overdoen en alsnog genieten van dat prachtige land!
This entry was posted on woensdag, juli 31st, 2019 at 23:42 and is categorized in
Vakanties
. You can follow any responses to this entry through the
RSS 2.0
feed. You can skip to the end and leave a response. Pinging is currently not allowed.