posted by Aar on mei 7th, 2023
Stacken is de techniek om meerdere foto's die ieder scherp gesteld zijn op een deel van een onderwerp op elkaar te leggen en alle scherpe delen in een nieuwe foto te zetten. Het onderwerp van 52Frames deze week was "Food" en ik kreeg zin om ingrediënten van dichtbij te bekijken.
De onderstaande foto is gemaakt van wokkelpasta, boekweit, thijm, peperkorrels, bijenpollen en zeezout – in een min of meer nette compositie op het schoongemaakte scherm van mijn tablet.
Voor deze foto zijn 60 originele prenten gebruikt, gemaakt met de Sony A7R2 + 90mm macrolens + een focus-rail op statief en een afstandsbediening om te "knippen". Allemaal met zonlicht van opzij.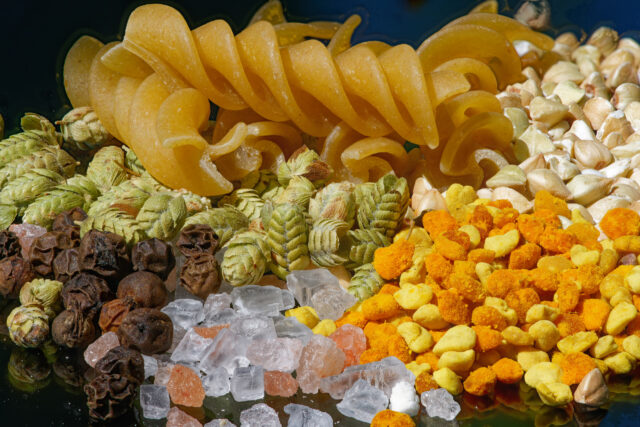 De RAW foto's zijn eerst ingelezen in Photolab (zonder verdere bewerking) en geëxporteerd naar TIFF, waarna Zerene Stacker haar kunsten vertoonde om alles van voor naar achter scherp te krijgen. Gaat razendsnel op "Mac silicon". Het resultaat heb ik nog lichtelijk aangepast in Photolab alvorens te exporteren naar JPG. Tenslotte heb ik met exiftool -tagsFromFile weer Exif-informatie teruggeplant.
Hier is een "making of" prent: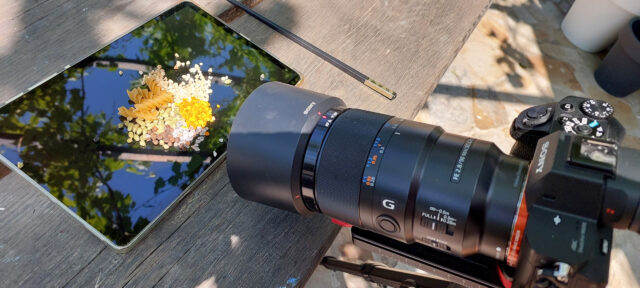 This entry was posted on zondag, mei 7th, 2023 at 16:16 and is categorized in
Foto techniek
,
Macro
. You can follow any responses to this entry through the
RSS 2.0
feed. You can skip to the end and leave a response. Pinging is currently not allowed.