posted by Aar on november 11th, 2005

tafelblad vol onderdelen, die samen een werkende universele PC gaan vormen… Opdracht: zoek de muis!
En hier diverse stadia van het monster in wording: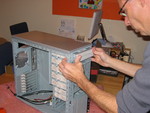 Het eerste onderdeel in de kast: DVD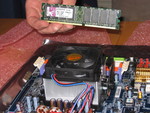 Met gulle hand een bak geheugen er in gieten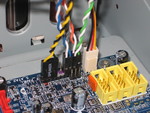 Detail van de kleine stekkertjes voor schakelaars, ledjes, etc.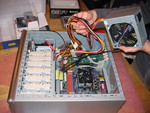 Zware voeding met heel veel stekkertjes
En het werkte ook nog!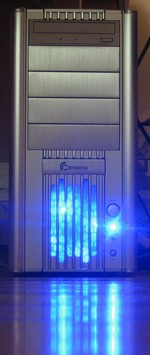 Een mysterieus blauw schijnsel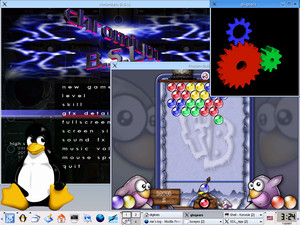 Zaterdag 19 november arriveerden een heleboel dozen, die erom riepen geassembleerd te worden tot een werkende PC. Mathijs was erg hard aan een nieuwe PC toe, omdat de oude steeds vaker het bijltje er bij neergooide… Dit was ook een goede reden om de hardware weer eens helemaal up to date te brengen en dat was te merken ook: na installatie van de (closed-source, ja dat wel…) Nvidia driver ging glxgears van 80 naar 3800 toeren per minuut en waren zelfs de Linux 3D games leuk genoeg om te spelen! Alle onderdelen bleken in orde en alles paste prima samen: de tang hoefde er bijna niet aan te pas te komen. Veel ventilatoren moeten de tijdens het gamen opgewekte warmte weer kunnen afvoeren en de voorste fan heeft ook nog eens prachtige blauwe ledjes, die voor een mysterieuze gloed zorgen. O ja: heb je de muis al gevonden op het eerste plaatje???
This entry was posted on vrijdag, november 11th, 2005 at 15:43 and is categorized in
Nieuws
. You can follow any responses to this entry through the
RSS 2.0
feed. You can
leave a response
, or
trackback
from your own site.