posted by Aar on november 15th, 2010
In de krant heeft een bericht gestaan over Jupiter: die zou goed zichtbaar aan de zuidelijke hemel staan met de vier grootste manen op een rij. Interessant… als het helder weer is! Vanavond was dat na lange tijd weer het geval en nu staan de manen niet meer op een rij…
Vooruit, dan doe ik er een foto van de maan bij.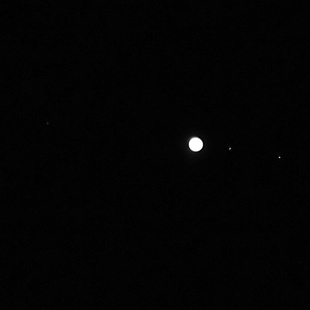 Jupiter met de manen Ganymedes (helemaal rechts), Io (dichtst bij de planeet met de vierde maan Europa er achter verstopt) en helemaal links van Jupiter is Callisto.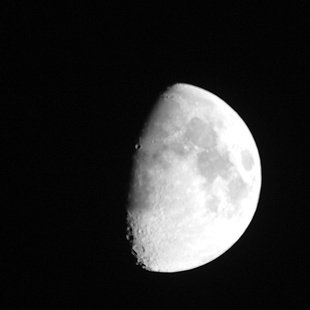 En onze eigen Maan, altijd mooi om te zien!
De foto's zijn gemaakt met mijn Pentax K-7 en Bigma lens op 500 mm.
This entry was posted on maandag, november 15th, 2010 at 19:56 and is categorized in
Pentax K-7
,
Sigma 50-500mm F4-6.3 EX DG
. You can follow any responses to this entry through the
RSS 2.0
feed. You can skip to the end and leave a response. Pinging is currently not allowed.