posted by Aar on juli 14th, 2022
Tijdens de viering van 750 jaar stadsrechten in Gouda is het mogelijk om de Sint-Janskerk te beklimmen: bij de toren naar binnen en dan een heleboel houten trappen op, via de enorme balg van het orgel, allerlei opslagplaatsen en fascinerende doorgangen langs eeuwenoude enorme balken naar… buiten!
Een aannemer heeft een geweldige looproute gemaakt van steigers en planken zodat je helemaal langs de bovenrand van de kerk kan lopen, neerkijkend op eindeloos veel daken – van de kerk zelf en de huizen er om heen – en andere bouwwerken zoals diverse torens en molens, de Gouwekerk, de Waag, het Middeleeuwse stadhuis en de moderne opvolger, enz. En de skylines van Utrecht, Rotterdam en Den Haag!
Het was prachtig weer en donderdag = de dag van de kaasmarkt met heel veel toeristen. We voelden ons toerist in eigen stad en dat voelde goed. Ik herinner me hoe ik jaren geleden op de allereerste dag in Gouda hier verliefd werd op de stad!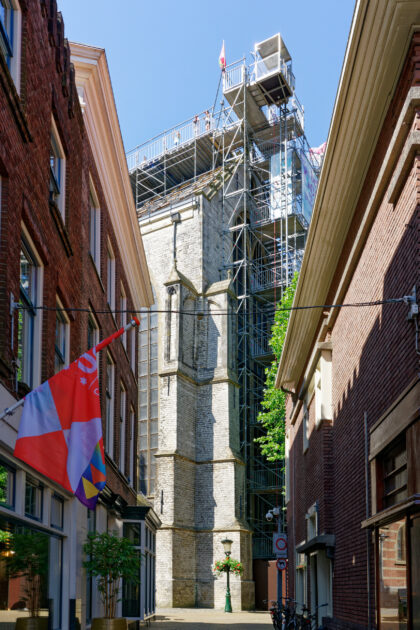 De foto's zijn gemaakt met de Sony A7R2 en Samyang 24mm lens. Een vaste focus dus en veel beperkter bereik. Als je ook de Erasmusbrug wil zien (letterlijk en figuurlijk een bruggetje naar de steden van Erasmus) dan moet je kunnen zoomen. Jolande kon dat; de Euromast is wel op de foto maar net niet met het blote oog te zien (de bredere gebouwen wel!):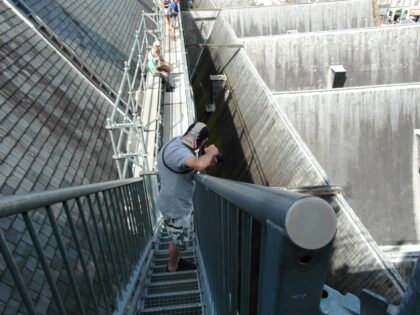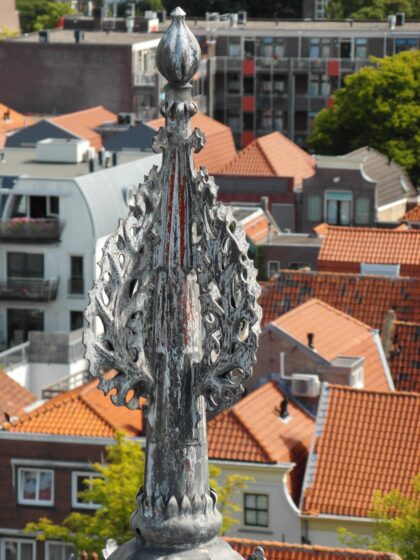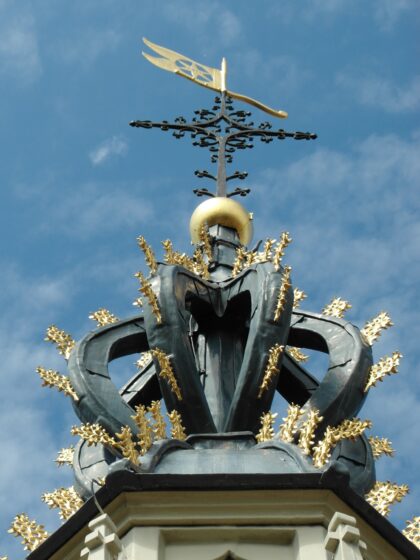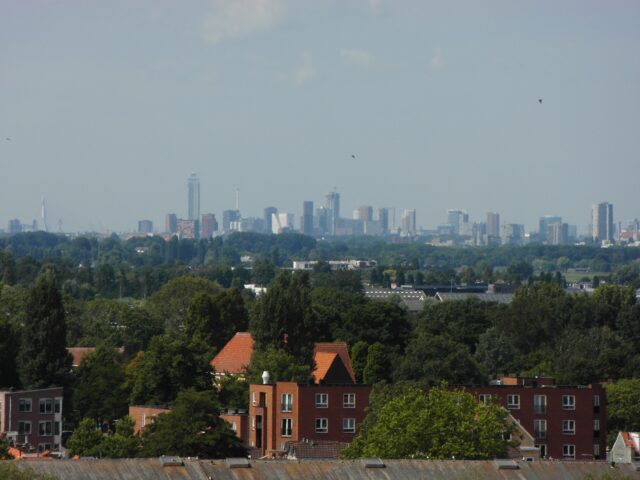 This entry was posted on donderdag, juli 14th, 2022 at 20:40 and is categorized in
Gebouwen
. You can follow any responses to this entry through the
RSS 2.0
feed. You can skip to the end and leave a response. Pinging is currently not allowed.