posted by Aar on april 1st, 2005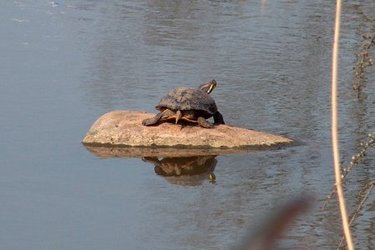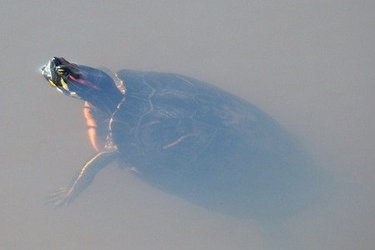 Op donderdag vertelde collega Jurgen dat hij een schildpad gezien had in de buurt van Rotterdam Alexander. Bijzonder!
"Een waterschildpad", ging onze verder wel betrouwbare collega verder. Een toen geloofde ik het ineens niet meer: een waterschildpad in Nederland? Hoe overleeft zo'n beest de Hollandse winter – kort geleden had nog flink gevroren!
En wat valt er nou te eten in ons poldertje voor zo'n beest dat in warmere oorden allerlei dierlijk voedsel weet op te scharrelen?
Nee, eigenlijk kon ik het niet helemaal geloven. Maar, door de aanwezigheid van een elektriciteitscentrale zou het water misschien warm genoeg zijn?
De volgende dag zouden we gaan kijken. Die dag was het… 1 april!
Met z'n vieren togen we naar Alexander; natuurlijk was het een grap, maar het was prachtig weer en we wilden ook nog even winkelen, dus de dag kon toch al niet stuk. Onderweg klonken er ludieke dreigementen, Jurgen hoorde zich al door drie man het water in jonassen als het niet waar was…
Maar wat bleek: HET WAS WAAR! Op een waterbuis zat een flinke moerasschildpad lekker te zonnen. Het beest was erg schuw en trok al gauw een baantje toen hij ons zag – maar kwam al weer boven om adem te halen en ons van een afstandje te bekijken.
In het zonnetje, tussen het riet turend naar het exotische beest waanden we ons even in een ander land…
Foto's van Philip van Geens
This entry was posted on vrijdag, april 1st, 2005 at 20:05 and is categorized in
Natuur
. You can follow any responses to this entry through the
RSS 2.0
feed. You can
leave a response
, or
trackback
from your own site.