posted by Aar on juli 10th, 2021
Voor ons huis vond ik een verdroogd blaadje met iets erop. Dat iets leek op spinnen- of vlindereitjes die zijn uitgekomen. Eenmaal gekiekt en gestacked bleken er veel poten tussen de lege tonnetjes te zitten. Te lange poten voor uitgekomen spinnetjes of rupsjes… Wat was het eigenlijk echt???
Ik heb een detailfoto als vraag gepost op een Facebookpagina voor macrofotografen. En kreeg al gauw als antwoord: "resten van geparasiteerde bladluizen (door Aphidius spec., parasitoide schildwespen)". Vervolgens heb ik op Internet de bevestiging daarvan gevonden: wat versere hulsjes van bladluizen die van binnen leeggegeten zijn. Wat een lugubere crimescene heb ik op de foto! De slachtoffertjes zijn een soort van veranderd in hun eigen grafkistjes…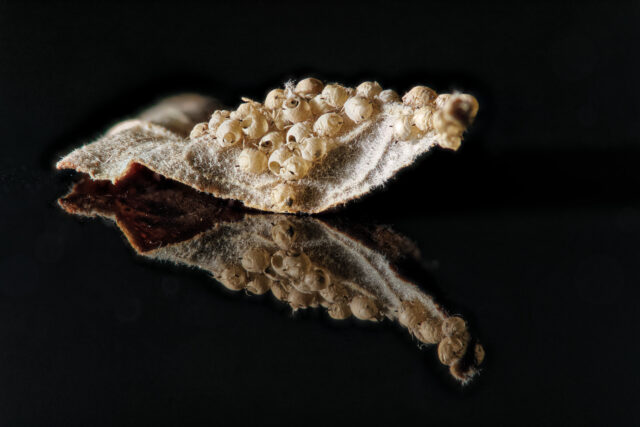 Hieronder nog eens het gecropte middendeel van de foto: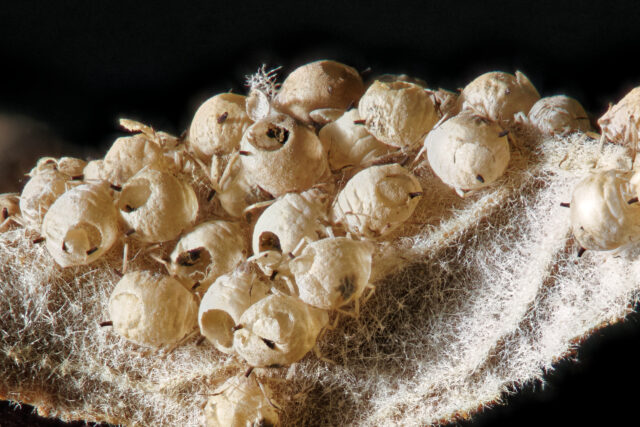 De foto's zijn gemaakt met de Sony A7R2, 90mm macrolens met 16mm tussenring en statief met macro-slede. Licht komt van een enkele flitser met snoot op 8 uur. 60 foto's zijn voorbewerkt met DxO Photolab en gestacked met Zerene en tenslotte weer met Photolab nabewerkt. Best wel een klus voor mijn oude macbookje. En best veel materiaal voor 1 cm2 object… Maar er ging letterlijk een wereld open!
This entry was posted on zaterdag, juli 10th, 2021 at 21:18 and is categorized in
Bijzonder
,
Insecten, spinnen, etc.
,
Macro
. You can follow any responses to this entry through the
RSS 2.0
feed. You can skip to the end and leave a response. Pinging is currently not allowed.