posted by Aar on juni 25th, 2019
Stel, je bent er volledig van doordrongen dat jouw religie de enige juiste is en je pakt de taak op anderen daar ook van te overtuigen. Vol goede moed ga je met een geloofsgenoot de deuren langs en dan… blijkt het verrassend moeilijk te zijn anderen voor jouw overtuiging te winnen.
Als nu een aardige mevrouw in alle redelijkheid antwoordt geen belangstelling te hebben dan ga je door! Jij hebt Jehova aan jouw zijde, twee handen en twee voeten om tussen de deur te steken en je laat niet los zolang die ander niet tot grof geweld overgaat.
Op een mooie zondagmorgen was ik de uitdossing van een nieuwe clownsact aan het uitproberen toen ik Jolande beneden bij de voordeur vergeefs duidelijk hoorde maken aan religieuze ambachtslieden niet geïnteresseerd te zijn in een bekering. Dat ging maar door!
Tot mijn geduld op was, ik wat willekeurige attributen pakte en de trap afliep om het van Jolande over te nemen. Dat gesprek zou meteen over zijn toch?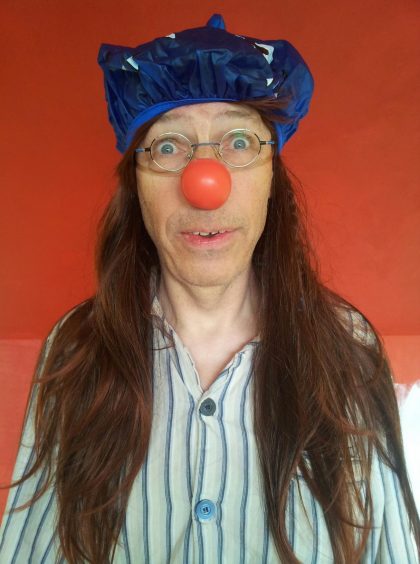 Nou… alsof ik de saaiste piet van de wereld was werd het gesprek voortgezet in mijn richting. Ik moet ze wel nageven dat bij hen niet op uiterlijk wordt gediscrimineerd. Alle schaapjes tellen voor Jehova, zonder aanziens des persoons.
Deze bekeer-me-niet-ling echter werd gedwongen om ofwel tot grovere vormen van lichaamstaal over te gaan of toch maar een verbale draai om de reli-oren uit de delen…
This entry was posted on dinsdag, juni 25th, 2019 at 21:51 and is categorized in
Clownerie
. You can follow any responses to this entry through the
RSS 2.0
feed. You can skip to the end and leave a response. Pinging is currently not allowed.