posted by Aar on juni 10th, 2021
Nou ja verduistering… een happie uit de zon.
Want wie heeft gemerkt dat het een beetje donkerder werd tussen de middag? Ikzelf niet maar gelukkig was de gedeeltelijke zonsverduistering netjes aangekondigd.

Hoe fotografeer je zoiets – dus zonder je ogen en camerasensor onherstelbaar te beschadigen? Op de eerste plaats alleen het schermpje gebruiken en dan proberen om het zo donker mogelijk te maken: liefst een lasglas en als je dat niet (meer, zoals ik) hebt: diafragma dichtknijpen, donker filter op de lens en om de sensor nog iets te beschermen de kortste sluitertijd. En laagste iso voor de fotokwaliteit.
Zelfs dan nog wordt het te licht en te heet: dus goed voorbereiden, de zon in, klikken en weer wegwezen. En dan krijg je dit: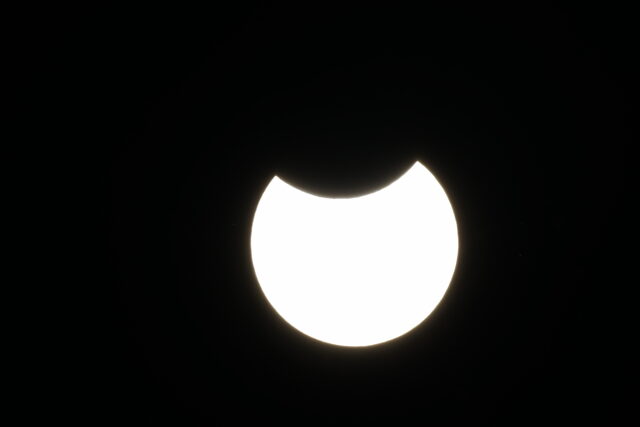 This entry was posted on donderdag, juni 10th, 2021 at 14:21 and is categorized in
Foto techniek
,
Natuur
. You can follow any responses to this entry through the
RSS 2.0
feed. You can skip to the end and leave a response. Pinging is currently not allowed.